H&J MASONRY
113 South 7th Street
Oakland, MD.21550
301-334-3415
MHIC# 75054

BLOCK
Foundations
Foundations are usually laid using 12 inch block. When the foundation is in the ground more than four feet, reinforcing rods are used in the cores of the block. They are placed every four feet to strengthen the wall.
The exterior of the foundation is plastered with mortar and coated with tar below grade. If the block are above grade, they can be plastered and brushed to give a stucco appearance.
All block work is done to comply to the Garrett County Building Code. A special fiber coating with portland cement along with a mastic type foundation coating is used for problem areas such as underground springs or heavy rain run-off areas.
Click here to view typical wall specifications.
If you would like to know how many block it will take to do a project, such as a foundation, click on the Estimator .
A foundation doesn't have to be square or rectangular shaped as seen in this photo.
Each of the eight exterior walls are equal in length. They are reinforced with wire and re-bar every 32 inches. The 45°corners are overlapped much the same as a regular 90° corner is done.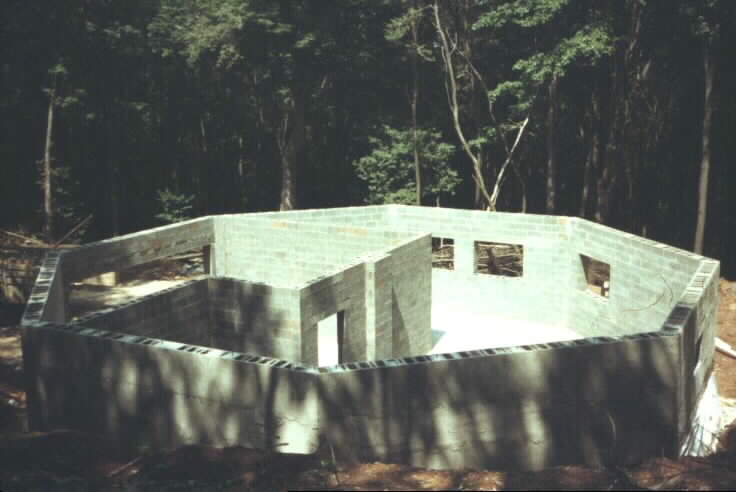 Octagon-Shaped Foundation
Split-Face Block
Split-Face Block are used to dress-up the appearance of basement walls when they are exposed above ground. They can be purchased in a variety of colors and textures to complement the rest of the building's finish. For more information on Split-Face Block and Brick: Go to www.nitterhouse.com
Split- Face block can also be used as accents with brick veneer, by using them as a base or in bands as seen in the photo.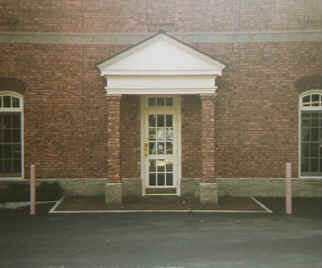 Go to Brick
Go to Stone
Go to Patios
Go to Fireplaces
Go to Retaining Walls
Go to Related Businesses
Go to Steps
Return to Home Page